"A good reputation is more valuable than money." – Publilius Syrus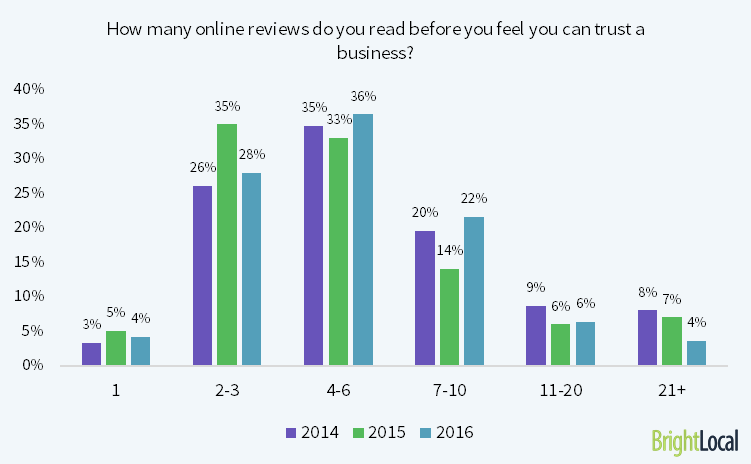 According to BrightLocal, a company focused on building local search engine optimization (SEO) tools, "consumers form opinions about businesses faster than ever" and specifically that "68% of people form an opinion by reading just 6 online reviews and 90% of people know whether or not they can trust a business by reading just 10 reviews." Taking these stats into consideration and that online reviews are among the first things prospects do before checking out a business, we're reminded of the importance of building up online reviews, so we've put together this quick guide on how to secure more online reviews for your home service business and get them coming in on a regular basis.
1. Two words: Just ask. If you're worried you may not get a response, "7 out of 10 consumers will leave a review for a business if they're asked to" (BrightLocal). Also, remember that whatever you don't ask for, you won't get, so what do you have to lose?
2. Set it and forget it. For home service pros who are swamped, the problem may lie in just not taking the opportunity to ask for reviews. Adding a short line to your email signature or invoices like "How did we do? Leave us a review" is a quick task that could get you more reviews over time.
3. Time it right. It's best to ask for a review when you are top of mind to the customer. Doing some research online, we found 1-3 days after a purchase (or the completion of a project) to be a good best practice, as it gives the customer enough time to evaluate and decide if they are satisfied.
4. Ask the right people. Be strategic and start with your advocates. Go to customers who have already reached out to you with positive feedback or customers  who have referred you to a family member or friend as they have a greater likelihood of writing a review for you. Do be sure to call or email them within a day or two of that activity.
5. Link to your review profiles everywhere. To increase the chances of getting reviews, make it easy for customers to provide feedback on you by placing links to your review profiles (i.e. Google, Facebook, HomeAdvisor, Yelp, etc.) on your homepage, throughout your website, emails, newsletters, even your business cards or marketing signage.
6. Get the whole company involved and reward them if you can. We've personally seen success with this by making sure our sales and customer service teams understand the importance of asking reviews and periodically running contests to see who can get the most reviews, offering up rewards like a free lunch or a small cash prize.
7. Automate review requests. Asking for online review requests can be an afterthought. Be proactive by setting up a thank you email that includes a review request that automatically fires off when a customer pays off an invoice or a day or two. Seek out an email marketing service like Mailchimp, which will allow you to build automated email campaigns and also offers a free plan.
8. Tell customers how long it'll take and what's involved. The good news is writing a review only takes a couple of minutes. If you're sending out a survey to customers and pulling quotes from that to form reviews, testimonials or case studies, share upfront how long the survey will take and what you plan to do with the information (i.e. share it on your Testimonials page or post it on Facebook). More people are willing to participate if you're transparent from the get-go.
9. Try the "tip" trick. According to MarketingLand.com, the "tip" trick where your field service tech or employee would say something like "If you had a good experience and include my first name in the review, the company gives me a $10 tip." is a strategy that bodes well for service pros like landscapers, exterminators and movers. Of course, if you do this, you'd want to make sure you are in fact rewarding your techs. Honor code, right?
Before we go, we also wanted to share some important do's & don'ts. Run through this quick checklist to make sure you've covered your bases:
Don't ask for reviews from a lot of people at the same time and while they're connected to your wifi. Review sites sometimes flag businesses that get too many reviews at one time or reviews that come from the same IP address.

Do take the time to respond to every review in a timely manner, especially negative ones. Being proactive in answering reviews can show your responsiveness and can help build up your reputation. If you mess up, be humble and explain how you want to take care of things for the customer.
Don't offer rewards to get customers to leave reviews or if you do, disclose it prominently. The Federal Trade Commission (FTC) is continuing to crack down on misleading or fake online reviews, so always aim for unbiased customer feedback. You never want to make it a requirement for your customers to write a positive review. If you do offer a discount or some material benefit to your customers in exchange for a review, make sure to be explicit about it.
What strategies have worked for you when asking for reviews? Leave us a comment below or if you found this post to be helpful, share it with your team.
Last Updated By: Rochelle Sanchirico
Last modified: April 6, 2018